Get the job done right and get paid fast, with BeePro.
BeePro, the best
Job management app
for
tradespeople.
With quick quoting and invoicing, as well as easy customer management and communication, all in one place.
Simple Invoicing
Turn quotes into invoices in an instant or create and send a new invoice, all in the time it takes to make a cup of tea. Stay on top of what is outstanding and reduce time spent chasing.
Get Paid Fast
Take payments in person on your mobile with Stripe payments. No fuss, just an instant and secure way to get paid fast.
Quick Quotes
Generate professional quotes with pre-created templates and an easy-to-use quote builder that lets you add line items, margin and discounts in an instant. Send and track quotes from the same window.
Make your admin
fast, simple, and
secure.
We've boiled it down to your key admin components, because anything that takes more than a few minutes to do is wasting your precious time.
We want to give you back your evenings, and regain a work-life balance.
BeePro puts all the key information you need to track jobs, manage customers and get paid, in one place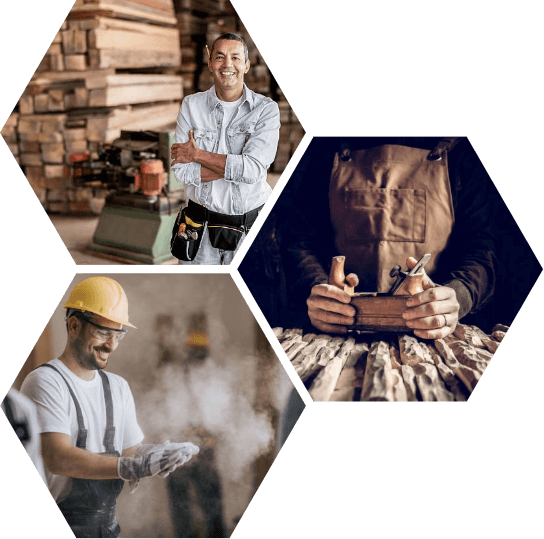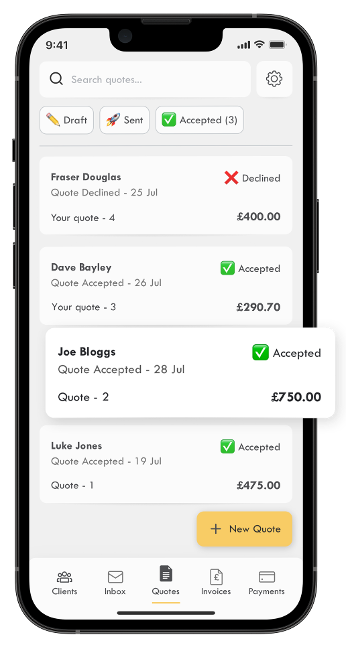 Make a note of it
Add notes including text, photos and videos for jobs, to give you a full view of what you are working on and to evidence your hard work.
Fool-proof filing
Important docs to store? Automatically file all email attachments under the right client, to remove the additional need for admin.
Keep in Touch
Connect your email account securely to BeePro and manage all client comms in our smart customer timeline and inbox. Send, receive and keep in touch, all in the app.
Save Time
BeePro provides one place to send emails and track job progress for all your customers. Customer timelines let you see where you stand with each client.
FREE 60 day
no-obligation trial
Not sure if BeePro is right for your business? Try the app free for 60 days and feel the benefits of having all your clients, quotes, invoices and payments together, in one easy to use app. With our no-obligation trial, there has never been a better time to try BeePro.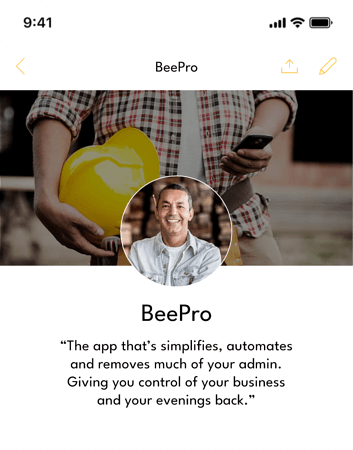 Frequently Asked Questions
Q:

What trades can use BeePro?

A:

We'd recommend BeePro to any tradesperson who wants to regain control of their business and get back their work-life balance. Whether you're an electrician, plumber, decorator or a heating engineer - if you've got invoices, quotes and emails to manage, BeePro can help.
Q:

How easy is BeePro to use?

A:

BeePro is designed around simplicity, and learning to use it is quick, easy and intuitive. Simply download the app, register and get going. All features are built for tradespeople and designed to make your life easier. Visit our HOW IT WORKS page for more info.
Q:

Will using it really save me time?

A:

How often do you have to hunt down a lost email? Or go back through your invoices to work out what's outstanding? How about spending a whole evening sending out new quotes or tracking your workload? Putting all this in one place, filed under the right customer could save you hours of admin every week.